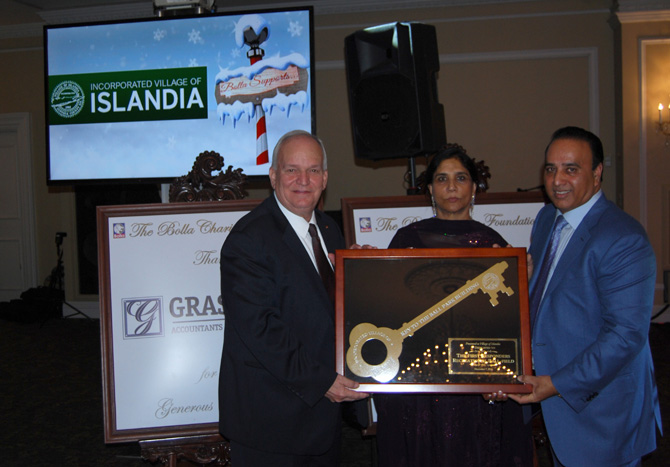 Mayor Allan M. Dorman (left) accepts an award from Kamljit Singh (center) and Harry Singh (right) of the Bolla Charity Foundation during the organization's Second Annual Gala at Oheka Castle on December 7.
December 27, 2016
Bolla Charity Foundation Honors Mayor Allan M. Dorman at Its Second Annual Gala
On December 7, the Bolla Charity Foundation honored Islandia Mayor Allan M. Dorman for his commitment and service to the Village of Islandia. During the event, he was handed a symbolic key to the Village's First Responders Recreation Field, which is currently under construction on Old Nichols Road in the Village. The Bolla Charity Foundation donated the construction of the restrooms, estimated at a cost of $500,000.
Based in Garden City, the Bolla Charity Foundation provides funding to numerous charities and holds special events to benefit other nonprofit groups.
For more information, call (631) 348-1133 or visit www.newvillageofislandia.com.