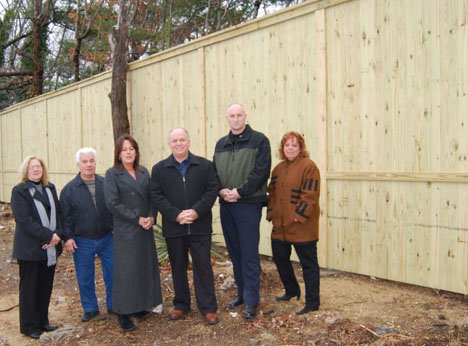 Pictured (left to right): Islandia Village Trustee Patty Peters, Highway Commissioner Tony Church, Deputy Mayor Diane Olk, Mayor Allan M. Dorman, and Trustees Mike Zaleski and Barbara Lacey.
December 15, 2010
Islandia Village Erects Fence Along Veterans Memorial Highway as Part of Beautification Program
On December 13, 2010, Allan M. Dorman, Mayor, Village of Islandia, was joined by village employees to show the completion of a 1,500-foot long fence that was constructed alongside Veterans Memorial Highway. This project was two years in the making, and is part of the Village Beautification Plan.
The purpose of the fence is to act as a sound barrier and provide privacy for over 1,000 of the village's residents. With no State or County funds available for this project, the Village paid for the project itself. The total cost of this project will be just under $200,000. The project demonstrates the flexibility of local government to react in order to address a growing quality-of-life issue.