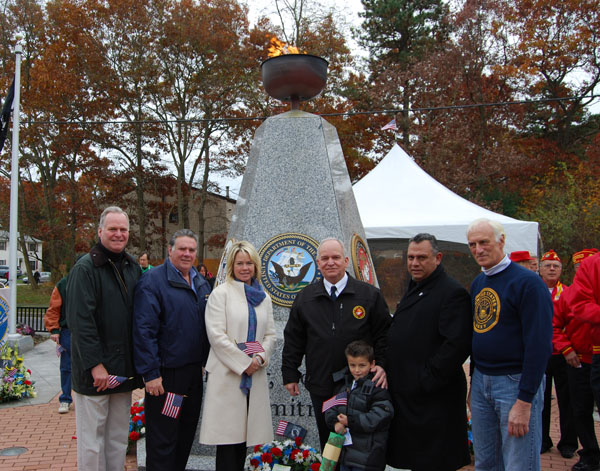 Mayor Allan M. Dorman (third from right) poses with his grandson Collin (front) and local elected officials and war veterans in front of the Islandia Veterans Memorial at the village's Veterans Day ceremony on November 9. Also pictured (left to right): New York State Assemblymen Michael Fitzpatrick and Al Graf, Islip Town Councilwoman Trish Bergin Weichbrodt, Suffolk County District Court Judge Phil Goglas, and William Ferris, Swift Boat veteran.
November 13, 2013
Village of Islandia Honors Those Who Served during Veterans Day Ceremony
On November 9, the Village of Islandia held its annual Veterans Day ceremony at the Village Memorial Triangle. Mayor Allan M. Dorman, a Vietnam veteran, was joined by local elected officials, war veterans and representatives from the Central Islip and Lakeland Fire Departments to honor those who served and continue to serve in the armed forces.
There was a musical performance by the Central Islip High School marching band and a presentation of the colors by local members of The United States Marine Corps. Village officials joined war veterans in placing a wreath and bouquets of roses in front of the memorial.