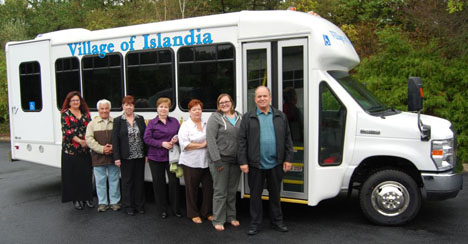 Islandia Village employees pose in front of the bus that the village recently purchased for senior citizens who need transportation. Left to right: Heather Blanck, Bus Driver; Tony Church, Mary LoVerde, Patricia Dorman, Marilyn Griffaton, Amy Prokop, and Allan M. Dorman, Mayor.
October 12, 2010
Islandia Village Purchases Bus to Provide Transportation for Local Senior Citizens
On October 4, Allan M, Dorman, Mayor, Village of Islandia, announced that a new bus that the village purchased to help senior citizens get to where they need to go has arrived. Reservations for bus service are currently being accepted, with limited bus service scheduled to begin on October 18.
The handicapped-accessible bus will accommodate up to 20 people and will be used to transport Seniors — who may otherwise have no other means of transportation — to their doctor's appointments. On certain days, transportation will be provided to senior citizens who wish to go shopping. As the bus program moves along, the village plans to expand service in the future as needed.
"This service is being provided to our senior residents to make life a little easier, and why not?" Mayor Dorman said. "As Mayor of this village, I am proud to offer this service that is so needed."
To make a reservation, call 631-348-1133.