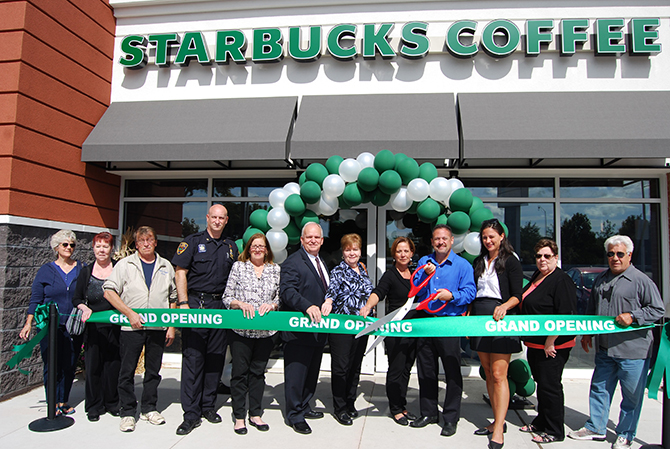 Mayor Allan M. Dorman (sixth from left) and Trustees Mike Zaleski (fourth from left) and Patty Peters (fifth from left), Village of Islandia, and Islandia Village employees join in the ribbon cutting of the new Starbucks at 3701 Expressway Drive North. Also pictured: Deborah Gregorio (fifth from right), Store Manager, Starbucks of Islandia; Jeff Taussig (fourth from right, holding scissors), District Manager and Lindsay Trimarchi (third from right), Real Estate Store Development Manager, New York City Metro Region, Starbucks Coffee Company.
October 7, 2015
Village of Islandia Welcomes Starbucks
On September 25, Mayor Allan M. Dorman, Village of Islandia, joined village employees and board members in the grand opening of the new Starbucks on 3701 Expressway Drive North. The new Starbucks location features a drive-up window and is conveniently located on the north service road off the Long Island Expressway.

"We welcome Starbucks to Islandia and continue to welcome new businesses to our village. It is important to note that Starbucks has recognized this location and the Village of Islandia as an ideal spot to expand its business," said Mayor Dorman.

For more information, call 631-348-1133, or visit www.newvillageofislandia.com.