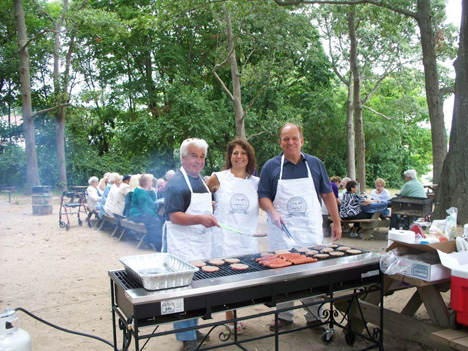 Pictured (left to right): Tony Church, Village of Islandia's Commissioner of Highways; Barbara Tate, The Arbors Assisted Living's Recreation Director; and Allan M. Dorman, Village of Islandia's Mayor.
August 17, 2010
Islandia Village Staff Serves BBQ Lunch for Arbors Assisted Living Residents
On August 12, employees from the Village of Islandia volunteered their time to serve a barbecue lunch to residents of The Arbors Assisted Living's Islandia East and Islandia West facilities which took place at the beach on Lake Ronkonkoma. Residents were treated to hot dogs and hamburgers as they enjoyed a spectacular view of the water. The seniors thanked the village staff for taking the time to come down and make them this special lunch.