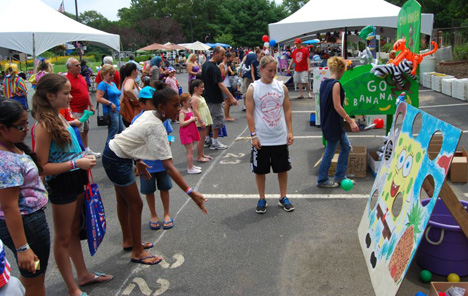 Children take part in some of the games at the Village of Islandia's 7th annual BBQ.
July 20, 2012
Village of Islandia Celebrates Summer with 7th Annual BBQ
On July 14, more than 800 Islandia Village residents came out to the 7th Annual BBQ. Village employees and local Boy Scouts served residents hamburgers, hot dogs, ice cream, soda and water. Children enjoyed the day with hayrides, games, pony rides, a petting zoo, arts and crafts; face painting, and piņatas. A local DJ provided the music to keep the party going. Residents of the Arbors Assisted Living Facility and local elected officials were also in attendance.
In addition, there was a blueberry pie eating contest with the winners getting a blueberry pie and a $25 gift certificate to Dave and Buster's. The Central Islip Fire Department was also on hand to teach children about fire safety. The village also had its DWI Awareness program, in which those on peddle carts donned a pair of goggles to simulate the effects of being intoxicated and attempted to navigate a course designed by the Public Safety Department.