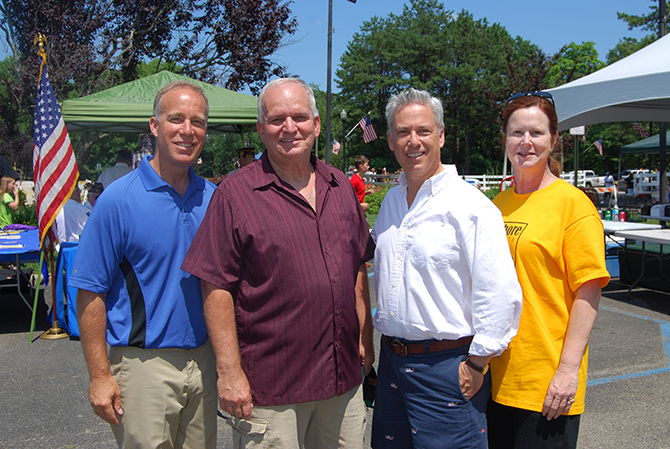 Pictured left to right: Suffolk County Legislator Tom Cilmi, Mayor Allan M. Dorman, Islip Town Councilman Steve Flotteron, and Islip Town Clerk Olga H. Murray.
July 17, 2015
Islandia Residents Celebrate Village's 30th Birthday at Annual BBQ
On July 11, more than 500 Islandia Village residents came out to celebrate the village's 30th anniversary during Islandia's 10th Annual BBQ. This year's theme was "Star Wars," as costumed characters from the film greeted visitors and the Village Hall parking lot was decorated with R2-D2 balloons.

Village employees and local Boy Scouts served residents hamburgers, hot dogs, roasted corn, salad, and cold drinks. The celebration included a hayride, kiddie pools, games, face painting, pony rides, petting zoo, a volunteer dunk tank, raffles, a blueberry pie-eating contest and music. Mayor Allan M. Dorman led residents in the singing of "Happy Birthday" as a birthday cake to celebrate the village's 30 years was brought out.

The village was officially incorporated on April 1, 1985, after voters approved a referendum. On May 22, 1985, village residents voted for its first mayor and board of trustees.

The Village of Islandia is home to over 3,300 residents and over 1,300 businesses. It encompasses 2.25 square miles and contains 275 acres of Greenbelt, including Lakeland Park and Islandia Farm. The village is comprised of the Hauppauge, Central Islip and Connetqout School Districts, and the Hauppauge, Central Islip and Lakeland Fire Districts

For more information, call 631-348-1133, or visit www.newvillageofislandia.com.