Mayor Allan M. Dorman (third from left) is joined by local elected officials and war veterans John Mauro, CCP, VFW Post #9486 in Lake Ronkonkoma; Lee Zeldin, NYS Senator; Al Graf, NYS Assemblyman; John Kennedy, Suffolk County Legislator; and Bill Ferris, Islandia resident and Swift Boat veteran.
June 10, 2013
Village of Islandia Honors Local War Veterans At Memorial Day Ceremony
On May 25, the Village of Islandia held its Memorial Day ceremony at the Veteran's Memorial Triangle, located at the intersection of Old Nichols Road and Johnson Avenue. Local elected officials, war veterans and village officials were in attendance.
Islandia Village Mayor Allan M. Dorman, a Vietnam veteran, recognized those who served our country including Islandia resident and Vietnam veteran, Vincent Loverde, who died on April 21 and army chaplain Monsignor Francis Midura, who passed away on July 30, 2012. Msgr. Midura presided over the village's Memorial Day and Veteran's Day ceremonies and a special memorial service commemorating the 10-year anniversary of the September 11 attacks. There was also a laying of the wreath, with flowers graciously donated by Gina's Flower Shoppe.
During the ceremony, Ed Gorniak, Sergeant-at-Arms, Royal Canadian Legion Ontario at Branch 50 Fred Gies in Kitchener, Canada, awarded Mayor Dorman with a certificate of appreciation for serving as a Vietnam veteran. Mr. Gorniak thanked Mayor Dorman for allowing his RCL members to attend and participate in the ceremony.
Following the ceremony, all visitors gathered at Islandia Commons for a brunch.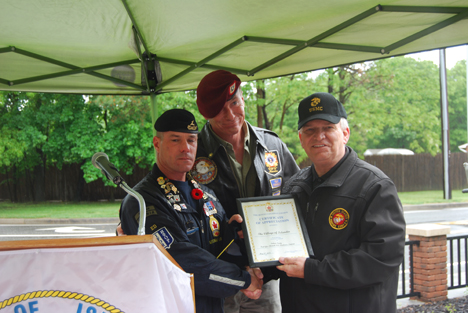 Ed Gorniak (left), Sergeant-at-Arms at Royal Canadian Legion Ontario at Branch 50 Fred Gies in Kitchener, Canada, presents a certificate of appreciation Mayor Allan M. Dorman (right) at the Memorial Day ceremony in Islandia Village on May 25. They were joined by William Prince (center), Quartermaster, VFW Post #372 in Great Neck.
For more information, call 631-348-1133 or visit www.newvillageofislandia.com.