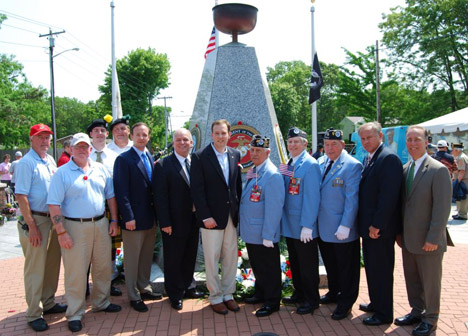 Pictured (left to right): Alan Weiss, President, and Neil Dembinski, Member, Freedom Flying Memorial; Patrick and Brian McCormack, Bagpipers for Memorial Day ceremony; Islip Town Supervisor Tom Croci; Islandia Village Mayor Allan M. Dorman; New York State Senator Lee M. Zeldin; Sal Scarlato, President, Art Andolfi and Lou Montani, Members, Korean War Veterans Association, Central Long Island Chapter; Islip Town Councilman John Cochrane; and Suffolk County Legislator Tom Cilmi.
June 5, 2012
Islandia Village Memorial Day Ceremony Features Special Flyby of Sikorsky UH-34D Helicopter
Ceremony Honors War Veterans, Including
Former POW from World War II
On May 26, the Village of Islandia held a Memorial Day ceremony at the Veteran's Memorial Triangle, located at the intersection of Old Nichols Road and Johnson Avenue. The event opened with an invocation, and was followed by a wreath ceremony. Gina's Enchanted Flower Shoppe provided flowers for the ceremony.
The ceremony also included a flyby from the U.S. Marine Corps Helicopter Squadron 361 in Cutchogue in a Sikorsky UH-34D helicopter. These helicopters were used during the Vietnam War for combat rescue missions.
Islandia Village Mayor Allan Dorman, a Vietnam veteran, addressed members from the local chapters of Veterans of Foreign Wars, Korean War Veterans of America and the Vietnam Veterans of America, residents of The Arbors Assisted Living Facility and local elected officials. He also honored two local residents: Bill Dufek, a retired U.S. Army drill instructor, and Jim Dowling, a former Highway Superintendent for the Town of Smithtown who was a Prisoner of War during World War II. Mayor Dorman also presented a special bouquet of flowers to Marilyn Griffaton, Village Administrator, whose husband, Charles, passed away earlier this year. Mr. Griffaton served in the U.S. Navy from 1958 to 1962.