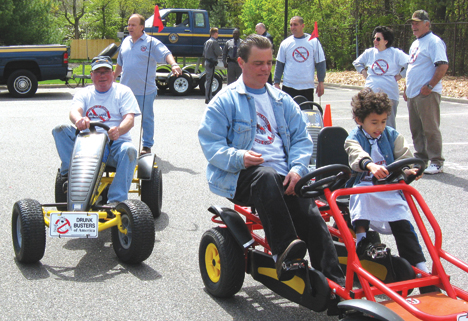 May 10, 2008
Educating Our Children Against DWI
On Saturday, May 10, 2008, Village of Islandia residents participated in a newly established program that will target the effects of driving while intoxicated (DWI). The program is designed to demonstrate to our young, and not so young adults, how DWI will affect their judgement and driving abilities.
Participants were given the opportunity to experience the effects of impairment by using special goggles. They were asked to walk on a straight line, first without goggles, and then while wearing goggles designed to simulate being intoxicated. They then drove peddle carts, first without the goggles, and then wearing the goggles, to expereince the differences in their judgment and reaction time when driving impaired.
This was organized as an enjoyable event, but also as one that would leave an important mark on the participants. The powerful hands-on interactive tool demonstrated the dangers of impairment. Younger children drove their parent in a two-seater peddle-cart, as older children experienced driving the obstacle course themselves.
Participants who completed the course were given a t-shirt with the "Village of Islandia Educating our Children against DWI" logo and all were given a certificate of achievement.
The Village also thanks members of the Suffolk County Police Department for demonstrating their roll-over vehicle to stress the importance of wearing a seatbelt. The Village also thanks MADD (Mothers Against Drunk Driving), who spoke about the consequences of driving while impaired.
Based on the program's success, the Village plans to have it running at all of its events to encourage safe and responsible driving.